Emigranti
Pòsati, adesso! Getta il saco a terra
C'è un po' d'Italia qui. Spezza il mio pane.
Io parlerò con te delle lontane messi che splendon sulla nostra terra.

Emigrants
Pause a moment! Throw your bag to the ground.
There is a little bit of Italy here. Come, share my bread.
I will speak to you of the corn that sparkles on the land.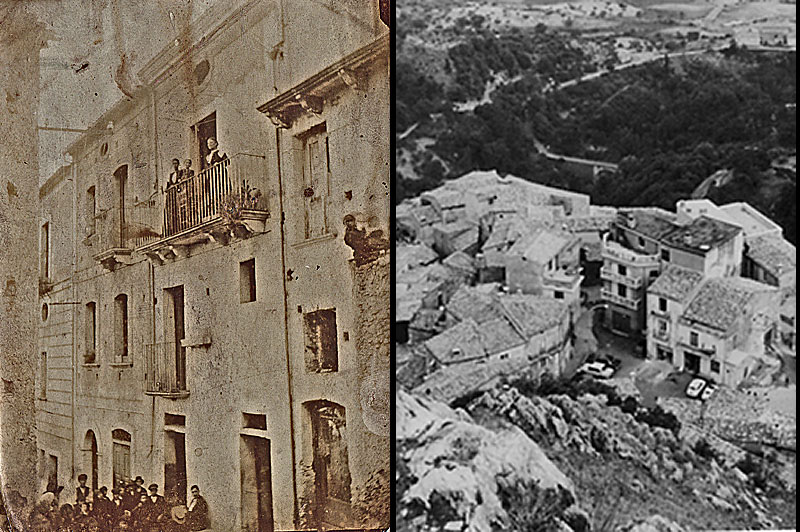 San Donato
Introduction: 1972
Our navy blue mini Fiat begins the arduous, spiraling ascent, our goal a speck of distant whitewashed spires set against an azure, late afternoon
sky. The church tower of San Donato di Ninea looms closer and closer as I clutch my camera, snapping photos of kerchiefed laundresses beating linen against rocks in a stream and youthful, barefoot shepherds protectively herding scrawny goats away from the chugging approach of our auto, which careens cautiously around the hairpin turns of the one lane road.
In about fifteen minutes we arrive in a small piazza bounded by several official looking buildings and a tiny café. Children, dogs, and chickens scatter at the sound of our engine as we pull into one of three parking spaces at the far end of the square. From the crowd of drably dressed townsfolk, an old man with a sun-wizened countenance, wearing the classic village garb of dark trousers and collarless white shirt, walks up to our car. Avez-vous perdu la route? he queries, assuming we are French by the license plates of our rented vehicle. I respond in Tuscan Italian – probably as much a foreign language here as French – telling him we are Americans and have come to visit my grandparents' birthplace. He asks who they are, and though it is three quarters of a century since they had left the village, the names of Carlo Pucciani and Giuseppina Apa ignite a bright glance of recognition. The man, obviously the town linguist, switches to a very serviceable English and offers to guide us through the village, a courtesy we gladly accept. Several other townspeople, among them the priest, the schoolteacher, and the lawyer, decide to accompany their "illustrious" visitors through the winding streets, past the former homes of my relatives, leading us ultimately to the door of a remote cousin.
After warm introductions there and an invitation to spend the night, we continue our journey upward. Before long, the street narrows, and the climb grows more difficult, causing the trio of village professionals to fall away, leaving Greg and me in the company of the contadino who is our guide. Chatting inquisitively about life in America, he ceremoniously conducts us to the church square. High atop the town, the rough-hewn Romanesque structure reaches out to embrace the spectacular evening light, casting the dominion of its shadow over the mountains with their deferentially clinging stucco houses and over the panorama of the patchwork fields below. Nestled high in the Apennine Mountains, isolated in time and place, San Donato, like so many other Calabrian villages, seems to stretch back effortlessly into the continuum of the past.
The sun-drenched boot of Italy, a peninsula bounded by the Tyrrhenian and Ionians Seas and separated from Sicily by the Straits of Messina, contains five percent of all Italy's land, but only a small percent of her population. A rugged, uncompromising, and grandly beautiful landscape, Calabria is fashioned of dramatic mountain ranges, thick woods, and torrential streams cascading over lush plains and rocky coastal regions before pouring into the turquoise sea. Across the sparsely settled land, dotted with miniature, self-sufficient villages and dominated by three
cities, Cosenza, Catanzaro, and Reggio di Calabria, winds the serpentine Autostrada with its dramatic viadotti, creating breathtaking spans across cavernous gorges. Sometimes, the skies radiate solar warmth, and the seas and fields of Calabria yield a rich harvest, but, occasionally, Nature, in the form of hard winters, earthquakes, and floods, reminds man that he is an intruder here. More often, though, she simply makes his incursions into this primeval landscape arduous, thwarting his scientific arrogance and leaving symbolic reminders like the twisted, dangling remains of a collapsed bridge above a rocky chasm, that Calabria is a land for the initiated only.
By 1901 America had welcomed 223,000 Italians who carried to our shores their fragile dreams and tenacious memories and who fashioned a new life marked with the joy of discovery and the melancholy of nostalgia. Carlo and Giuseppina were only two of the many sons and daughters who abandoned San Donato at the turn of the century in pursuit of prosperity, and though they returned but once during their seventy years in America, memories of their presence remained etched in the rock-hard history of their suol' natale.
Our guide departs, leaving us in the church piazza with the evening shadows lengthening. My attention is attracted by a withered, sepulchral looking figure swathed in black, perched frailly on the edge of the waterless fountain. For a moment in the orange light of sunset, her parchment face has the opalescent glow of a faded sepia print. In the spellbinding mystery of the descending darkness, in this distant land, in a time-warped reality, she is, for me, Giuseppina Pucciani. Drawn as if in a trance, I move to the center of the piazza, where from the folds of her mourning shawl the woman speaks in a crackly voice: Sei la nipote di Peppina Apa? (Are you Peppina Apa's granddaughter?) I nod affirmatively, and she continues in dialect: "I knew her a long, long time ago. It's so many years now since she left – since they all left …." Her voice trails off. Forse sonno tutti morti. (Perhaps they are all dead now.) Solemnly, I tell her of my grandparents' recent passings. The immediacy of the dates seems to make little impact on her reverie. Clearly, she has mourned these departures (and who knows how many countless other even closer personal bonds) for more than half a century – a vast, silent expanse of time that somehow has not obliterated the burning recollections of youth, comradeship, and common heritage. "She was beautiful. We were all so close in the paese, but then they went to America. Forse han' tutto scordato .(Perhaps they have forgotten all of us, everything.)
Her silence is so full of an exalted sadness that it seems disrespectful to shatter it. The words I want passionately to say freeze on my lips. I can only nod a polite farewell and move slowly away, but in my head and in my heart pounds a fierce denial. Forgotten? NO! Not in the two generations of San Donatans in America, not in my roots nor in my family's collective memory, and, most importantly, not in the tiny spark of self I discover in this epiphany of the all-embracing Calabrian twilight.
O' chi spartenza
O' chi spartenza, dolurusa e amara
Chi pianginu I petri di la vita.
What a Sad and Bitter Parting
Oh, what a sad and bitter parting!
The stones along the way weep too.
Calabrian Song
I. Carlo & Peppina
Apa Clan
The three storey, whitewashed house with its plain rectangular façade still proudly fronts the gray cobblestone, steeply sloping street which winds upward through San Donato. Chickens peck at crumbs before the 1950s metal louvered square doors, which once housed Luigi Apa's cantina and the family stables. Within the sparsely adorned stucco rooms, the second of Luigi and Maria Caropreso's four children, Giuseppina, was born in 1880. A strapping girl with wavy black hair, a penetrating, dark-eyed gaze, and a determined tilt of the chin and set of the lips, Peppina enjoyed the unchanging pleasures of a village childhood: playing hide-and-seek with her two brothers and her sister in the rocky caves at the foot of the mountain near the cross-marked resting place known as La Bevia, romping through the wheat fields, munching ripe olives and figs from the family orchards, and participating in the colorful religious processions and feasts which mark the cycle of the Calabrian seasons. The closely-knit life of the Apa clan revolved around the Church where Uncle Caropreso was a padre; around the campagna with its harvest of fruits, grains, flowers, and oils; in Mama's cucina, where the lush comestibles were prepared; and in Papa's cantina where the wine flowed, and the town gathered. From the cantina each night before bedtime, Luigi Apa would leave his customers and mount the stairs to his children's bedrooms to serve them a thimble full of red wine and a crusty slice of white peasant bread, before tucking them in and enjoining them to say their prayers.
The loving security and girlish gaiety of Peppina's childhood came to an abrupt end, however, when she was eight years old. By a bitter stroke of fate, Luigi Apa became the murder victim of a mistaken vendetta that had begun in his own tavern. Two men had started a violent argument early one summer evening, and Luigi had asked them to leave. Shortly afterward, he, himself, had closed the cantina and headed up the rocky path toward the church of San Donato for evening vespers. One of the quarrelers lay in wait for his adversary, and mistaking Luigi for his intended victim, dropped a large rock on the hapless young father, who was struck on the temple and killed instantly.
Almost as immediately, the well-being and happiness the family had known crumbled. Peppina was forced to quit school after only three years –(she remained illiterate all her life) – and was enrolled as an apprentice in the local convent. There, first among the stern, silent nuns and later in the white austerity of her ground floor room at home, Giuseppina sat at her loom for long hours weaving delicate vestments and lacy altar cloths for the Church. Religion gradually replaced her father as the focal point of her devotion, transforming her into a solemn, pious teenager, who, despite her gender and because of her clerical connections, helped to serve daily mass in San Donato. Her older brother, Vincenzo, and younger brother, Rafaele, as in most old-fashioned Italian households, were permitted to finish grammar school before they were obliged to assume Luigi's profession as tavern keepers. They made trips to Cosenza to import the foodstuffs and wine for the cantina, and they also learned the cobbler's trade, a skill which would prove useful to them when in 1905 they joined the Great Emigration to America.
As the children grew and survived the loss of their father, the Apa clan regained some of their former prosperity and position in the town. Their generations-old house boasted the first flush toilet and later the first electric lights in San Donato, and their cantina once again bustled with guests who came to savor the vino di casa and the delicious home-cooked piatti di giorno. Surely, Carlo Pucciani, a handsome young apprentice carpenter, sporting a fashionably full, black handlebar moustache, must have frequented the Apa establishment and noticed the silent, tall -- (at least to him – he stood an erect, stately four foot eleven inches) – Giuseppina!
Pucciani Clan
Carlo and Peppina were the same age, though their paths diverged when Peppina had left school, while Carlo had gone on to study until he was fourteen before completing his three-year apprenticeship to become a Master Carpenter. Literate, intellectually curious, manually dexterous, fun -loving, and mischievous, Carlo, who came from a boisterous brood of fifteen siblings, seemed the diametric opposite of the quiet, devout, even dour Peppina, and the senior Puccianis had, no doubt, dismissed her as a marriage prospect for their son. This proved to be a wise decision since the young man had few thoughts of settling down. Rather, in 1897 at the age of seventeen, armed with his trade, his hopes, and his bravado, Carlo decided to strike out on his own: his destination the teeming crossroads of opportunity at Mott and Mulberry Streets in New York's Little Italy.
To Be continued... Next month: Part Two